CHANGE FOR LIFE 2017 FUNDRAISER: We have baby bottles available for anyone who would like to take one home and fill it with spare change, cash or a check to help support the Freeport Pregnancy Center. Return bottle by Father's Day.

LOVE GIFTS FOR ROCK RIVER BIBLE CAMP: Again this year we are asking for your help in providing items for RRBC. Copies of the list of supplies needed are on the table in the Welcome Center. Please show your love and support for RRBC by donating supplies and placing them in the box provided in the foyer.

GRADUATION PARTY: The family of Cecelie Eiler invites the church family to join them in celebrating Cecelie's graduation from Freeport High School. A party will be held on Saturday, June 3rd from 2:00 - 5:00 p.m. at Read Park Pavilion.

ALL-CHURCH CAMPING WEEKEND: The Annual All-Church Camping Weekend has been scheduled for Friday, June 2-4, at Le-Aqua-Na State Park in Lena. Come for a night or two or, if you do not camp, come spend the day. Supper on Saturday will be at 6 p.m., bring a dish to pass and join the fun. If you have any questions, contact Rhonda Giedd or Belva Schulz.

ROCKFORD RESCUE MISSION TEAM MEETING: Anyone that is interested in helping out at the Rescue Mission should attend a brief planning meeting between Church and Sunday School on June 4th. The team will be going there on Saturday, June 17th. A signup sheet is being passed around during the service today.

VBS MEETING: We will have a short VBS meeting on Sunday, June 11th between Church and Sunday School in the Fellowship Hall. Anyone that plans to help should attend.

PRAYER REQUEST FORMS: If anyone has a prayer request that they would like the prayer team to pray about, please fill out the blue Prayer Card that is in the pew and place in the offering plate each week.

SUNDAY SCHOOL: All are welcome to join Rick Eiler's Sunday School in the gym each Sunday 15 minutes after the church service is over. They are studying the book of Ephesians.

WOMEN'S SMALL GROUP: Thursday's, at 7:00 pm at Erica place. All women are invited to come be a part of this group. Contact Erica Giedd @ 815-990-8992 with questions.
BRANSON BUS TRIP: Belva is planning a bus trip to Branson from November 6 - 10th. Anyone that is interested in going should sign up on the sheet in the foyer or contact Belva Schulz at (815) 789-4202.

OUR DAILY BREAD DEVOTIONALS AVAILABLE: Copies of the June, July, August edition of the Our Daily Bread devotionals are available in the Welcome Center.

SOFTBALL TEAM SIGN-UP: Church League Softball season is just around the corner. If you are interested in playing on Emmanuel's team this year, please add your name to the signup sheet posted on the tripod in the foyer. If you have any questions, contact Roger Hull 815-865-5999.

COPIES OF ANY SERMON: We have sermons on our website (www.cedarec.org). Select: Menu, Ministries, Sermon Player. If you would rather have a CD, there are copies available in the Welcome Center.

VILLAGE NEWSPAPER AVAILABLE: Copies of the May Echoes of Cedarville village newspaper are available on the table in the Welcome Center for those who are interested.

FACC DONATION BOX: A donation box is available in the Welcome Center for anyone who would like to contribute non-perishable food items or personal care products such as soap, toothbrushes, toothpaste, etc. Donations will be taken to FACC for distribution.

HOMETOUCH: Copies of the May HomeTouch paper are available on the table in the Welcome Center for anyone who would like one. They are great to take to shut-ins or the home bound.

WOMEN'S EVENT ON JULY 14 & 15: Planning for the women's summer event is underway, and details will be coming soon. Save the dates of July 14 and 15, and be praying about who God might have you invite. Let Mary or Jeannie know if you would like to help out in the any of the following areas: Praying, Donations of food or supplies, graphic designer, cooks and servers, greeters, performers for a drama, photographer, speakers, decorators, mail out invitations.

CEDARVILLE MEMORIAL DAY PARADE/PICNIC: The Cedarville Memorial Day parade will start at 10 a.m. on Monday, May 29th. A $7 picnic lunch will start at 11:30 a.m. at the Cedarville Museum rain or shine. All are welcome to come.





Powered by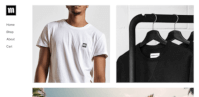 Create your own unique website with customizable templates.